Who We Are:
Broadbent B & B Foods originated in Trigg County Kentucky. The company is named after it's original owners. Smith Broadbent begin selling Country Ham, Bacon and Sausage from his farm in 1909. Smith Broadbent, II along with his sons Smith Broadbent, III and Robert Broadbent built a USDA facility in 1965 and begin producing USDA inspected Country Ham, Bacon and Sausage. In 1999, they sold the business to Ronny and Beth Drennan, the current owners. In 2008 we moved into a new facility in Kuttawa, Kentucky. Our goal is to produce top quality products and offer top quality customer service to you our customer, "From Our Families Smokehouse, to Your Families Table."
Awards/Testimonials
Broadbent Award Winning Country Ham and Smoked Bacon From Our Family's Smokehouse to Your Family's Table Since 1909
The Ten Million Dollar Broadbent Country Ham
August 24, 2023, Broadbent's 22th Grand Champion Ham Sells for $10 Million Dollars! Click the Link below to see details: Prized ham goes for whopping $10 million at Kentucky State Fair auction.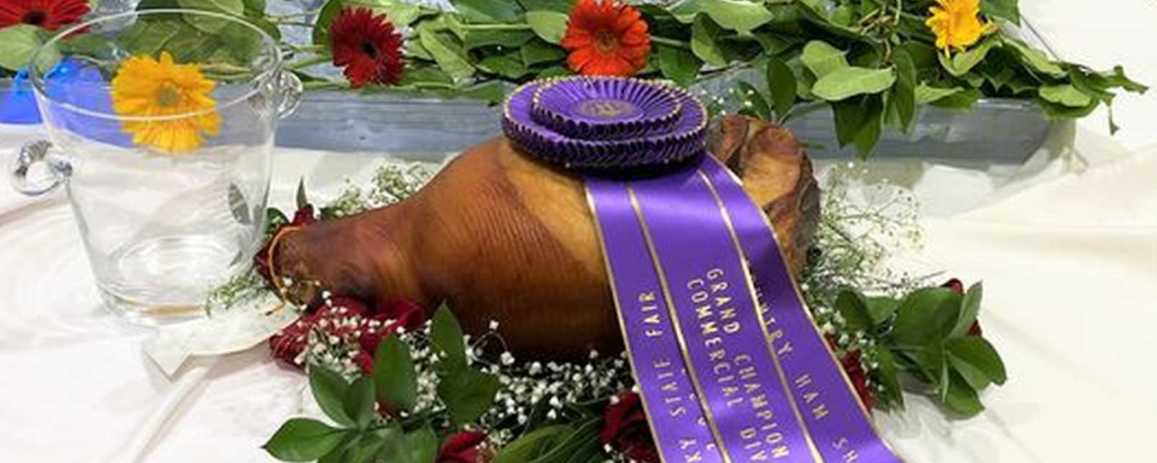 Records are made to be broken. This is very true at the Kentucky Farm Bureau Country Ham Breakfast held each August in conjunction with the Kentucky State Fair. Each year the Country Ham awarded Grand Champion on opening day of the fair, is auctioned for charity. Proceeds from the auction are donated to charities chosen by the winning bidder or bidders.
A Broadbent Country Ham has been auctioned 22 times at this charity event. Our first ham to be auctioned was in 1967 with the selling price of the ham being $825.00, which was a record. Ten years later another Broadbent ham auctioned for a record breaking $35,150.50. In 2006 the selling price hit the Half Million Dollar mark. Broadbent hams continued breaking the record selling price at the auction in 2010 for $1,600,000.00, in 2014 for $2,000,000.00, in 2018 for $2,800,000.00, in 2021 for $4,800,000.00 and in 2022 for $5,000,000.00. Millions of dollars over the past few years have been raised for charity. Just when you think a country ham can not possibly sell for more than 5 Million Dollars, 2023 rolls around and the record is doubled. On August 24, 2023, A Broadbent Grand Champion Country Ham sold for a mind-blowing, whopping Ten Million Dollars! Two bidders joined forces to pay 5 Million Dollars each for this ham. The forces behind the winning bid were Central Bank & Kelly and Joe Craft. They have been the record-breaking bidders for the last three years.
Broadbent and company owners, Ronny and Beth Drennan are honored to have been a part of this amazing event. The total dollar amount raised at the event from 1964 to the present is over 33 Million Dollars. Broadbent Country Hams have sold for over 29 Million Dollars of that total.
Thank you for for making this, our 56th year in the mail order business!
In 2009, Broadbent's celebrated their 100th Anniversary in the production business of making old-fashioned Country Ham, Bacon and Sausage!
What we do!
There's Kentucky country ham, and then there's Kentucky country ham from Broadbent's. The makers of award-winning Kentucky country ham, hickory smoked bacon, and smoked sausage. The tradition of making products of the highest quality has been the same for over 100-years. Whether your tastes in Ham flavor is salty or sweet, we've got the perfect Ham for your Christmas celebration! Please Browse through our selections, all guaranteed to please!

Our facility, located in Kuttawa, KY, has a walk-in market available to serve customers throughout Kentucky. We are also well known for shipping our aged hams throughout America. Winter, Summer, Spring or Fall, Broadbent ships its hams to all.

We've been shipping our hams across the country through mail order since 1965, so we have the experience to get your country ham, bacon or sausage to wherever you live without losing that great Kentucky country ham flavor. All our country hams are aged for 6-to-9 months before they're ready to ship to your dinner table. This hickory smoked and dry-curing process is what gives our hams that distinct Kentucky flavor.

It's not only our hams, though. Our hickory smoked bacon and sausage are just as popular and have acquired just as many accolades as our famous country ham. We've been using Grandma Broadbent's hickory smoked sausage and hickory smoked bacon recipes for over 100-years now.

We offer plenty of different kinds of bacon and sausage for sale, including applewood smoked bacon, our award-wining pepper bacon, maplewood bacon and much more. Besides our country ham, we offer a variety of traditional foods for your Kentucky Derby Parties. Browse our website for sandwich toppers, sweets and treats like Derby and Pecan Pies, all natural "Kentucky Proud" veggies, jams and jellies.
*************************************************************************************
"Piggy Facts"
Would you like to know where your food comes from and what's in it, well here's some "Piggy Facts" about the hams, bellies and sausage trimmings that we purchase to make Broadbent's Dry Cured and Smoked Country Ham, Bacon and Sausage.
Where do we buy our meat?
Seaboard Foods supplies our fresh hams, bellies and trimmings. The pigs are born and raised on their farms located in the Great Plains and Midwest. Pig comfort is a top priority. Their climate-controlled barns keep pigs comfortable and prevent exposure to extreme temperature swings. All fresh hams are purchased from Seaboard except our Heritage Breed Hams. These facts do not apply to the heritage breed hams.
What is the diet these pigs are fed?
The pigs are fed grain-based diets tailored to the pig's stage of growth and have access to clean fresh water. Nutritionists have developed grain-based proprietary rations designed to maximize nutrition at every stage of animal growth based on Southwest and Upper Midwest environments and genetic requirements. This helps optimize pork color, texture and flavor, while specially formulated vitamin packs improve health, creating nutrient-rich pork for consumers and improving shelf life, juiciness, texture and color. Seaboard Foods does not allow ruminant meat or bone meal in its feed rations.
Through stringent screening systems and working with only approved suppliers, the ingredients are guaranteed to be free of unnatural residues. Major ingredients used in at least one of these diets includes: Corn, Grain Sorghum, Soybean Meal, Bakery Product, Salt, Phosphorus, Whey, Limestone, Trace Minerals, Fish Meal, Vitamins, Amino Acids, and Tallow.
What is the breed of these pigs?
Our wholesome, delicious pork starts with a crossbred market hog. On the male side, or known as the sire, we use primarily Duroc (http://www.porkfoodservice.org/breeds/#.VsuCWfkrJHq) or Duroc-influenced sire lines. Duroc pigs are known for sweet meat, marbling, and high-quality shoulders and spareribs. On the mother side, or the dam, we use a crossbred sow of Landrace (http://www.porkfoodservice.org/breeds/#.VsuCh_krJHp) and Large White (http://www.porkfoodservice.org/breeds/#.VsuCh_krJHp). Landrace pigs produce large litters of piglets and flavorful ham and loins. The Large White, often classified as a heritage breed, is a hardy breed valued for its excellent hams and bacon.
What age are the Pigs harvested?
Hogs are harvested around 6-7 months age
Heritage Breed Facts:
Heritage breeds are the very foundation of our agricultural history and gastronomic identity. A true heritage breed can be traced back prior to the advent of industrial farming, meaning that they are directly connected to the beginnings of agriculture 5000 years ago. Each breed comes from a unique culinary tradition, with its own pure genetic line, and boasts a different, wonderfully nuanced flavor.
Industrial breeds, the mainstay of the fast food and supermarket industries, were developed through years of cynical genetic selection and artificial insemination. Desired traits in poultry, for example, include obesity, disproportional breast size, and feathers that come off easily. Breeding for these traits create animals that are unhealthy and need antibiotics.

Our farmers grow animals that are raised humanely, outdoors, on-pasture, using traditional farming techniques. These animals reproduce naturally, and are never fed antibiotics or growth hormones. Heritage breeds produce the world's best meat — and that is not just our opinion, it is a scientific fact. Heritage breeds are more marbled, which means more tender and juicy than any industrially farmed meat. Heritage meats boast a profound taste and depth of flavor that has not been squashed by a corporate culture that only cares about rapid production.
************************************************************************************
Broadbent's Award-Winning History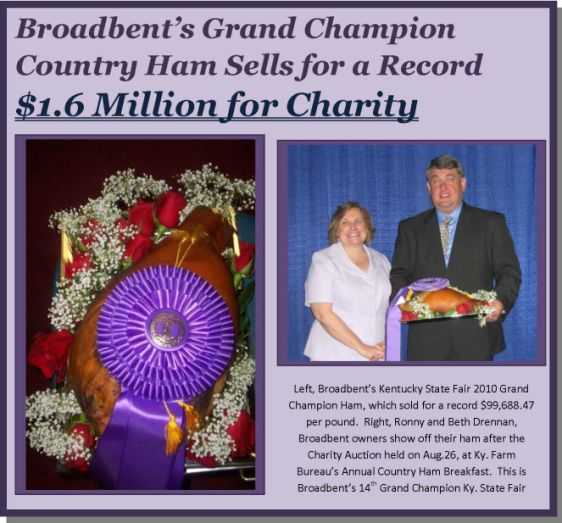 Good Taste takes the prize when you serve a Broadbent's B & B Country Ham. The Family has been curing country ham, bacon and sausage for 100 years. Smith Broadbent II, along with sons Smith III and Robert founded the retail business in 1966. The Bingham family of Louisville, KY. was also part of the operation in the beginning hence the "B & B" title. A series of family tragedies resulted in the Bingham's withdrawal from the firm.
The names Trigg County and Broadbent's are synonymous with the Kentucky's most famous country hams. Smith Broadbent, III sold the family business to Ronny & Beth Drennan of Fredonia, Kentucky in March of 1999. Sandra Myers of the Kentucky New Era wrote on Aug. 19, 2000, "Those who bemoaned the sale of Broadbent's B & B Foods two years ago can now rest easy. It's a well-known fact that curing a good country ham is an art that few can master. However, traditionalist can now put their worries aside, as new owners Ronny and Beth Drennan have more than proven their ability to serve up good country ham. It all happened Thursday at the South Wing banquet hall at the Kentucky Fair and Exposition Center in Louisville when their firm's 2000 Grand Champion Ham was auctioned during the 37th annual Kentucky Country ham Breakfast."
[The Kentucky State Fair is the oldest competition we attend. Approximately 12-14 Kentucky companies compete for the Coveted Grand Champion Award each year. This competition consists of 6 classes with 1st , 2nd and 3rd place awards given. Classes 1-4 are made up of hams of different ages and weights. They are judged on appearance and aroma. Class 5 is the Best Taste or Cut Class where the ham is cut, cooked and tasted. Class 6 is awarded to the competitor with the highest score for the total of all five hams entered.]

Kentucky State Fair Country Ham Competition:
2023-Grand Champion, Placed first in classes 1, 2, 3 ,4 ,6
2022-Grand Champion, Placed first in classes 1, 2, 3, 4, 6
2021-Grand Champion, Placed first in classes 1, 2, 3, 4, 6
2020-No Competition due to covid.
2019-Placed first in classes 1,4,5,6
2018-Grand Champion, Placed first in classes 1,2,4,5,6; second place in class 3.
2017-Grand Champion, Placed first in classes 1,2,3,4,6; second place in class 5.
2016-Grand Champion, Placed first in classes 1,2,4,5,6; second place in class3.
2015-Placed first in classes 2,4,6; second place in classes 1,3.
2014-Grand Champion, Placed first in classes 3, 4, 5, 6; second place in classes 1,2.
2013-Placed first in class 3; second place in classes 1,6; third place in class 5.
2012-Placed first in classes 1,4
2011-Grand Champion; Placed first in classes 2,3,6; Placed second place in class 1; Placed third in class 5.
2010-Grand Champion; Placed first in classes 1,4,6; Placed second place in class 3 and tied for second place in class 2.
2009-Placed first in classes 1 and 5.
2008-Grand Champion; Placed first in classes 2,3,4,5,6
2007-Placed second place in classes 3,6
2006-Grand Champion; Placed first in classes 3,4,5,6; Placed second place in class 2; Placed third place in class
2005- Grand Champion; Placed 1st in classes 2,3,6; Placed 2nd in class 4; Placed 3rd in class 1,5
2004- Grand Champion;Placed first in classes 1,2,3,5,6.
2003-Placed 1st in class 2
2002- Placed 1st in classes 5,6
2001- Grand Champion
2000- Grand Champion
1999-Placed 2nd in classes 3,5
1998-Placed 1st in class 5; Placed 1st in classes 2,4,6; Placed 2nd in classes 1,3
1997-History Unknown
1996-Placed 2nd in class 2; Placed 3rd in classes 3,4,6
1995- Placed 2nd in class 4
1994-History Unknown
1993- Grand Champion
1981- Grand Champion
1980- Grand Champion
1978- Grand Champion
1977- Grand Champion
1976- Grand Champion
1967- Grand Champion

The American Association of Meat Processors (AAMP) named Broadbent's- National Grand Champion Winners from 2001-2005, the last five years that they had a dry-cured Country Ham catagory. The American Cured Meat Championships consists of two categories. They are the Smoked Country Ham Class and the Un-smoked Country Ham Class. A Grand Champion and Reserve Grand Champion are awarded in each class. Approximately 12-15 companies from all over the United States compete.

American Cured Meat Championships:

2005-Grand Champion Un-Smoked Country HamReserve Grand Champion-Smoked Country Ham2004- Grand Champion Smoked Country HamReserve Grand Champion Un-Smoked Country Ham2003- Grand Champion Un-Smoked Country Ham2001- Grand Champion Smoked Country Ham2001- Grand Champion Un-Smoked Country Ham
The Sofi Awards Speciality Food Trade, Inc.
Broadbent's Pepper Bacon was chosen the winner of the Outstanding Meat, Pate or Seafood category at the 2002 & 2005 National Association for the Specialty Food (NASFT) International competition. The NASFT-National Association for the Specialty Food Trade, Inc. is a competition for specialty Food Companies.
National Country Ham Association Annual Competition
In April of 2005 Broadbent was named Reserve National Champion in the country Ham Smoked Catagory. This was the 2ed year for this competition. This competiton is held in different locations each year. Broadbent's only attends the competitions located closer to their facility, therefore does not enter the competition every year.

2005 Reserve Grand Champion for Smoked Country Ham
2014 Grand Champion for Unsmoked Country Ham
2016 Reserve Grand Champion for Smoked Country Ham
*************************************************************************************************************************
Testimonials
"I recently tried your beautiful product and I fell in Love both with Taste and the Texture."
Peter R,. Michigan
"OH Man...We just tasted the cooked ham...Wow! I am not typing this my taste bud are!!
Bill E., Florida
"I order your ham pieces and hocks every year and make bean soup, then portion and freeze the soap. It is by far the best ham to use and people rave about it. These Yankees down here in Florida don't know much about country ham, so when I gie it to them they think I am a chef or something....
This was the first time I've gotten the bacon and it its the best."
Steve C., Florida
"My parents won't buy country ham from anyone other than you.:-)"
Tracy P., Virginia
"We do love the sausage...and the bacon too!"
Joey S., Tennessee
"Love the Sausage! I appreciate the Excellent Customer Service."
Tony D., Kentucky
"We throw a Derby party each year. Your ham will be the central point of the meal. We love to share our Kentucky heritage with the folks down here."
Bill E., Florida